Roberta Goode – President and CEO
"We're a team of visionaries – we take risks, plan, and execute."
Roberta has over 25 years of experience in biomedical engineering, having graduated high school at age 15 and financing her Bachelor of Science degree in pre-medical studies and a Master of Science degree in Biomedical Engineering from the University of Miami. She started her career in Product Development at Cordis Corporation (a Johnson & Johnson company), then moved to positions in Quality Assurance and R&D at Althin Medical (eventually acquired by Baxter Healthcare) and Beckman-Coulter.
In 2002, Roberta founded Goode Consulting International, which has since been renamed Goode Compliance International.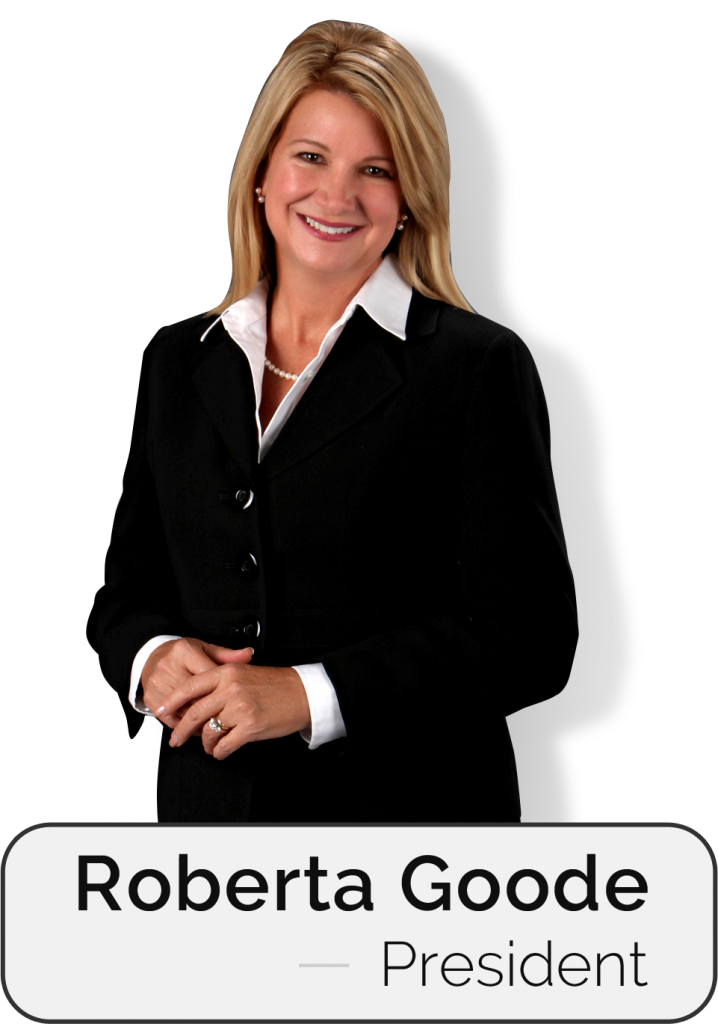 Armed with her designation from the American Society for Quality as a Certified Quality Engineer, four US patents for novel cardiovascular components, and her own initial investment of $5000, Roberta made the leap to business ownership and built GCI's corporate biotechnology division from the ground up.  She provided pivotal leadership in building out corporate systems and integrating feeder systems utilizing her substantial network and adjunct faculty appointment at the University of Miami's College of Engineering. Under her leadership, the company was profitable its very first year and has driven sustained growth in revenue every year thereafter.
In 1998, Roberta was offered an adjunct faculty appointment at the University of Miami's College of Engineering, where she was given approval to develop the first Quality Systems course for the University. She centered the curriculum on the practical tools that graduating students would encounter in their new roles as engineers in the medical device field.
Roberta knew she could expertly utilize an operationally efficient, best-practices approach within her own company, while merging quality systems engineering services with a hands-on understanding of regulatory affairs. This sets the bar for GCI's "holistic approach" to remediation of quality systems deficiencies with an eye for operational efficiency and sustainability.
---
Greg Goode – CFO, Strategic Development
"Our entrepreneurial spirits directed us to where we are today…and where we will continue to go."
Greg, a graduate of Florida Institute of Technology with a Bachelor of Science degree in Computer Science, began his career as a programmer analyst at Florida Power and Light in Miami, FL until he transitioned to John Alden Financial in research and development to identify and implement new technologies and solutions for the business. From there, he and a colleague built a new IT consulting firm, Data Solutions Corporation, in Ft. Lauderdale, FL in 1998. Within three years the business was sold and shortly thereafter, Greg joined his wife, Roberta, at GCI where he founded the Information Technology (IT) division.
Within a few months of being in business, GCI's biomedical division had landed its first multi-billion dollar client, a global medical device manufacturer. This opportunity gave the company the fuel it needed to expand. Greg was on a mission to "do it better this time," in reference to starting a business for the second time, taking all his knowledge and experience and pouring it into GCI. And the growth and success of GCI simply speaks for itself.